Big Oops...
Apologies go out to our hosted JawMD2 site. Whenever they were first hosted, we just gave them a small blurb, and didn't really go into detail. This is a formal announcement that, yes, indeed, we are hosting JawMD2. This is a program that allows you to preview 3D models and skins, in software as well as OpenGL. This is a must-have resource for anyone making skins or models, so download it NOW!

Site Movement
The Body Shop, a site for Quake2 skins and models, has now moved over to LogicQuest. They just updated with plenty of new skins and models, so go check out their new housing.

New Map Site
There's a new map site up called the Quake2 Map Outpost. Go there and try out their array of Quake2 maps.

Hosted Site News
The Arachnid TC is now up and running. Go see what's in store with this promising TC. They're still currently looking for level designers, a 3D modeller, and a sound engineer, so if you fit any of these catagories, go apply to get on board today.

Site Movement
Flasher's Quake2 Art Vault, the definitive source for Quake2 art and deep quotes, is now hosted by Frag.com. Congradulations goes out to these guys, I've watched them rise up from their humble beginnings to get where they are now...they deserve it. Go check out what they have, and submit some art or quotes of your own.

Help Wanted
The Illuminati TC is looking for people to help them out. This is important, so head on over to their page and see if you can get on this awesome team.

New Q2 Theme
Jalin has posted a new Quake2 Theme on his site. This is a "Wilshire" class theme, which means it will change more things than a standard theme is capable of doing. Check it out if you dare.

Orange Mod Updated
v.12 of the Orange CTF mod has been released. some of the new features include:
version/date description of change 24 Jan 1998, v0.12

added in duration to [Message of the day]

fixed total team scores - capture

highlighted bases

automatic base generation from the furthest available spawn
And more
Thanks Prophet for the news.

Quake2 Skins Central Explodes
Quake2 Skins Central just updated with a ton of new items. These include a "clan pack" of skin files, 50 in all, which includes skin files from 20 Quake2 clans, as well as a clan recruiting area and a clan listing area. Of course they still have their old favorites such as their models page. Go check out what they have to offer.

Q2 Random Map Generator Mod
Tsunami has put forth a preview version of a random map generator they've developed, in hopes of getting some feedback on the product. The generator can be found here. Expect a SDK kit to be released to the public some time in the near future. This sounds like a promising mod, go check it out.

New Q2 Frontend
Here's a press release we recieved from Ignazio Di Napoli :
a TOTALLY free Q2 frontend with ARJ compression support is avaible in its beta 1 version at http://www.isynet.it/qstarter. The Quake version (1.0) is also avaible. It's developed by me (Ignazio Di Napoli, dinapoli@isynet.it) for Windows 95.
Check it out.

Hosted Site Update
AWOQ2 has updated their page with some reviews of new levels, namely the deathmatch level "Cray Oh La Boxes" by Tom Hall of Ion Storm, and a single player level called "The Training Ground" by Ledman. Go check out this great site, and frag to some new levels.

Quake2 Bot Happenings
Here's the current scoop on bots for Quake2:
The Eraser Bot Beta 0.4 has been released. You can grab the self-extracting .exe file here, snag the zip file here, or get the linux version here. Details can be found on the Eraser Bot site.

C.R Bot has gone into a new version. This version impliments such features as numerous bug fixes, better AI, "learns" more features, customizable messages, overall improvement, and more. You can find out more about this bot on their site.
GSTAT Correction
Maybe the link wasn't included in the original email, or I just missed it (things were a little bit hectic last night, as you might imagine), but the link to GSTAT is right here. Thanks to everyone who pointed out the mistake.

Jobe

Openings at KlimaX
[McGruFF] of the KlimaX team sent us mail regarding a bad situation they're in:
In the past week KlimaX lost 3 people. One was our leader, then the co-leader dumped leadership to me. We also lost a great mapper. Right now, our (meaning the only two or three people left) want this thing to work. We want our ideas to be in motion. We are in need of a texturer(word?), mapper, programmer, and anyone that has SOME experience with Quake Programming.

I know we haven't updated in more than a month, and it doesn't look like this is gonna work, we are going to try. We have a great plot for a multiplayer conversion. If you can help us out, and fill some spaces, e-mail us at galactic@quake2.com. If we can get enough people to help, we will have this conversion working in no time. We only need HARD WORKERS. NO SLACKERS. Thank you for your time, and we mourn the loss of our dear friend and long time idol Slipgate, who was lost while defending his brain from school.
Get in contact with them if you can help them out.

GameStat Released
GSTAT, a free program that querys Quake2, Quake, Quakeworld, and Hexen2 servers (similar to GameSpy) has been released by Aaron "Caitiff" Levinson. This program boasts features such as:
Free: you can do whatever you want with it The source code is included
Compiles cleanly and works perfectly on a number of different versions of UNIX and Windows NT/95
The only free server administration tool
The ONLY cross-platform server administration tool
Easy-to-use command-line interface
Works with the experimental Quake II master server
Go check out the program if you're looking for an alternative to Gamespy, or just want to try something new.

TF2 Messageboard
TeamFortress 2 now has a messageboard, to share opinions, or to meerly gossip about new rumors surrounding the eagerly awaited mod.

Quake2 FAQ Updated
Satanic has updated the FAQ to v1.4. Go check it out to answer all your Quake2 questions, and submit any you may have (as usual, you can also download the FAQ zipped here).

Slave For Hire
PSX, a friend of mine, is offering his skills at logos for free at his page, for a limited time only, of course ;-). Go check it out if you've been wanting a professional image made for your web site, clan, etc.

Morbo Model Plugin
And the news goes on...Recieved this mail from Prophet, and I'm going to cheat a bit and post the letter in lew of time:
Team impact has a "story and background" document on their page concerning their morbo model plugin. if you haven't Dowqloaded morbo yet these text files are included in the archive... http://impact.frag.com/
I feel so dirty.

The King Steps Down
Well, as you can see, Slipgate has stepped down from his position as "Quake2.com News God and Utterly Nice Guy". Where do we go from now? Not 5 minutes after that was posted, I saw talk on irc.gameslink.net to the tone of "Well...we're screwed". I, too, shared that kind of dispare at first...but I realize we have to move on. Slipgate was not only a hard worker, and the man who, single handedly, made this site what it is today...but he is also a dear friend, and will be missed in that respect. Nigel, NetGuy, and I will strive to keep this site up to the kind of quality that earned it the award we recieved earlier today, I can promise you that. But...It wont ever be the same, and I wont deny that. We have lost a major contributing factor, and part of the spirit of the site...but, he will be back (in editorials, and visits, I'm sure). For now...goodbye, Slipgate. You were a friend, and an inspiration. You will be missed by myself, and everyone else who makes Quake2.com a part of their daily routine. I can only hope to begin to fill your massive shoes...

Jobe

Bad News (updated)
Having returned to school for my first week, it has become readily apparent that unless I retire from Quake2.com and work at school "full time", I will only grow up to be a penniless bum. Because of this I'm stepping back from my duties at Quake2.com. (Some of you may remember me doing this once before when the need arose, but this time I can't go back on this decision) I just want to note that those of you who like this site won't be disappointed just because I'm not around, I garauntee it. A lot of cool stuff is planned to happen soon here, and we'll still be doing our news coverage as before. I'll still be contributing some content and material to Quake2.com (more on that in the future, heh) but I'm no longer in my job here. I have gotten a huge load of questions in my e-mail, questions I regretfully will not have a chance to reply to. I am horribly understating when I say it was truly a great experience to provide what I could for you people out there, and to hear from you. Mind you, I'm not disappearing from the QuakeMunity, I just don't have the time left to do a job in the QuakeMunity.

Update: slipgate@quake2.com will no longer be checked and will soon be invalid.

Slipgate

Quake2.com Receives Award of Excellence!
Quake2.com recently recieved the "Award of Excellence For Quake II News" by the folks over at Zero 2 Sixty. Other nominees were such awesome sites as Blues News, PlanetQuake, and Frag.com, so that makes this award that much more special since we were rated up there with the best Quake sites on the internet. On behalf of the entire Quake2.com staff, thanks to everyone who voted for us!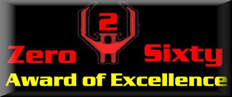 Quake Happenings
Here's a quick brief of the going-ons on the Quake community:

Correction
The "first" Quake2 movie we posted about earlier was not made by Stephen "Jagged" Lum, but meerly reported first by him. Sorry for any confusion.

WAKE Released
WAKE, a CTF-type mod that contains only one flag as opposed to two, which provides some interesting brawls, has been released. You can snag it here. This sounds like an interesting mod...

New QSpawn
The Quake/Quake2 Frontend QSpawn v1.56 has been released. You can download the upgrade, or the whole version of this useful program. Thanks Prophet.

QSB Out
Wow, this must be the day for releases. QSB, a program that allows you to view Quake2 models, create and save scenes, and access items from the .PAK file itself and other features useful to making Quake2 movies has been released. For more information, including implimented features, click here to download the QSB text file. Thanks Prophet

Jobe

Archives