The GuRu's
Review
Quote(s) Of The Day:
This is mainly due to the fact that the same boring ass brown metal Quake 2 textures have been mostly replaced with textures right out of an old western setting.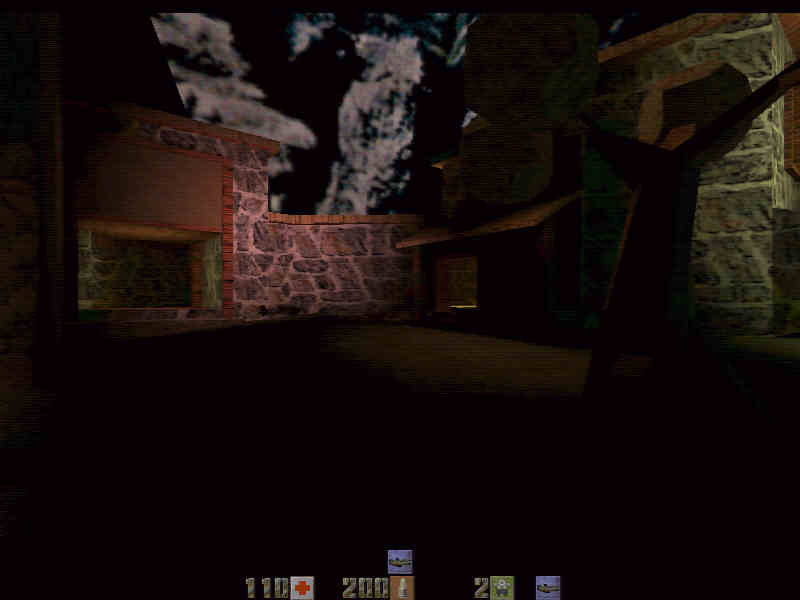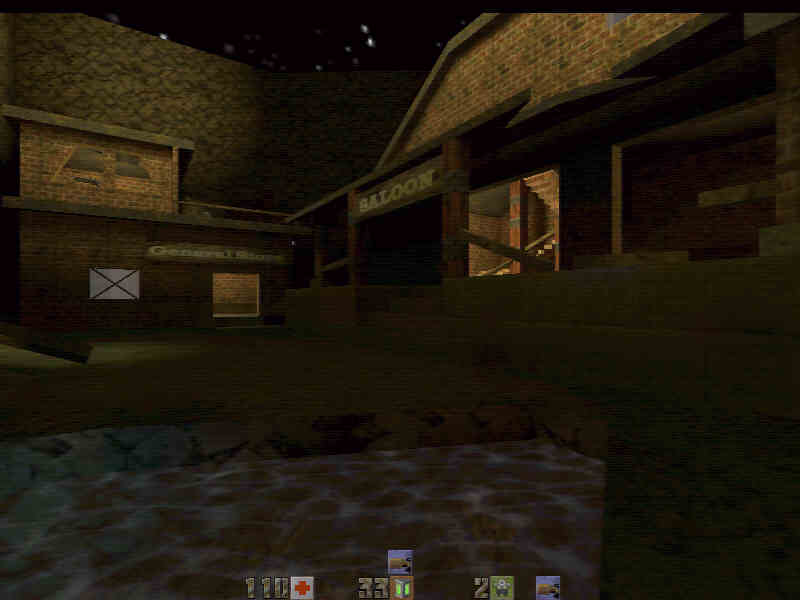 1 new SP map by Roger Staines called Ghost Town II. First off, I couldn't let this map slip by me without a quick review on it. It was one of those maps I put to the side, due to the size of the file, along with my inability to have patience between my modem and ISP. Now, when you have a decent modem, an ISP who provides quality service with a decent connection, it is a breeze to download. I happen to be one of the less fortunate one's, right now, who has to suffer in pain and agony without either of the two. I feel like I am back in the AOL days, where poor service, high pings, and a shitty connection were considered the norm.
Ghost Town II has an all together different feel to it then the typical every day single player Quake 2 map. This is mainly due to the fact that the same boring ass brown metal Quake 2 textures have been mostly replaced with textures right out of an old western setting. You will find a small little ghost town, with detail, right down to a piano playing (with piano key textures) in the saloon with actual music to blend in and go with it. The amount of detail in this map that the author has included is simply amazing! The town itself looks brilliant and the architexture couldn't have been done any better. I had the feeling I was actually in an old western atmosphere, especially walking through the small town. The sound effects, included with this pak, really fits the mood perfectly. The howling in the beginning adds a nice touch and sets the tone for the map. The dark surrounding night sky
gives it a style all its own. The water seems to fit perfect. Everything seems to fit perfect and flow, making the player believe he is back in those old western gun slinging days.
The action is pretty intense all the way to the end, even on medium skill. The weapons you pick up along the way, you need, and help immensely! There was a time I was blasting monsters with the hyperblaster. Other times, I was unleashing a shit load of rockets, making it a lot easier to survive and accomplish the mission. It is nice for a change to use the weapons that were intended for the game, instead of solely relying on a shotgun. I had the feeling, playing this map, that I used just about all the weapons and had to change from one to the next often and frequently.
I noticed that there were tons of secrets in this map, some difficult to find, which I thought was challenging, at other times somewhat frustrating. I remember being stuck towards the beginning when I couldn't get the key that was on the other end of the wall. After searching around, running around everywhere, things began to click and I was on my way. This is one of those maps where you just don't kill everything and run from the start to finish, instead, you enjoy what is in it and you must do a complete thorough search of the entire area before proceeding. Download this map now! It's a lot of fun and you will be glad you did.

- Added more SP map pics.
- Added Borders. Reason: Bored.
- Changed Date and Text bigger. Reason: Because I felt like it.
- Deleted a couple things to free up my very limited FTP space.
- Worked on my DM map called Maximum Facility. It has been long in the works (too long) and I will have a pic to display soon. This is possibly a map I will release to the public when I finally call it the end.
- Thought about what my Saturday night will include since Friday night basically sucked. You know it sucks when it is midnight and your sitting in front of a computer.